Colorado State University & the Colorado Water Center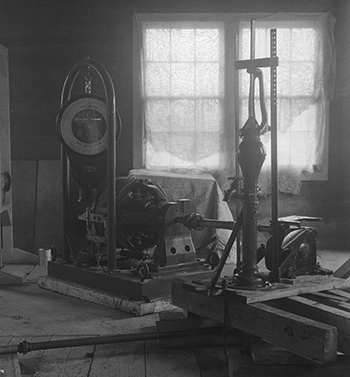 Colorado State University (CSU) is one of the world's leading universities in training,  research, development and institutional support for water resources and irrigation.  As early as 1889, the Governing Board of the University had established "Irrigation Engineering" as one of only three elective courses of study available at the time.  This tradition of leadership in the field of water science and engineering has continued to the present, and the quality of service performed by CSU is well‑known.
The water expertise that has developed over the long and rich history of Colorado State University's leadership role in water teaching, research, and service, is today addressing many of the pressing water problems that face not only Colorado, but also the United States and the world. CSU is a land-grant university that has a long and continuing history of providing technical assistance and training to numerous developing coun­tries.
All eight colleges at CSU work in water. Water-related areas of emphasis on campus include irrigation and drainage, aquatic systems and fishery management, climatological processes, computing in water resources, economics of water resources, environmental engineering, fluvial geomorphology, groundwater, hydraulic engineering, hydrologic engineering, mathematical modelling and data management, non-point source pollution control, proximal and remote sensing of water resources, organization of water users, river mechanics and sediment transport, social/historical water issues, stream biology, wetland/riparian zone management, water policy, water quality modelling, water resources planning and management, and watershed management, among others To learn more about what the Center is involved with, check out some of their latest publications. 
Fort Collins
Fort Collins is Colorado's 4th largest city and is a community that blends education and industry, hard work and recreation, tradition and progress. Did you know that Old Town Fort Collins inspired Disneyland's Main Street USA? Fort Collins has a wealth of natural beauty including 300+ sunny days a year, over 285 miles of bike routes and trails, and nearby Horsetooth Rock, Lorry State Park, and Rocky Mountain National Park. 
Things to Do in Fort Collins
If you are looking for specific events in your downtime during the conference, check out the event calendar for Fort Collins!
Restaurant concentrations are found in historic downtown, along the Harmony corridor, as well as dotted throughout Midtown Fort Collins. There are plenty of casual dining locations in the city, including a thriving pub dining scene. Fort Collins is home to more than 20 craft breweries, including the fourth largest craft brewer in the U.S., New Belgium Brewing Co. With new Fort Collins' breweries popping up all over the city, there is always something fun to enjoy. On any given day, tourists and locals alike flock to the craft breweries to enjoy a cold and frothy craft beer and some quality down time. Cideries have emerged to find their place in the robust Fort Collins brewing scene. Summit Hard Cider and Branch Out Cider, both found at Scrumpy's Hard Cider Bar, produce high-quality products that prove to be a nice change of pace in the Fort Collins drinking scene.
Fort Collins is a platinum level bike-friendly city, only one of five in the entire nation, thanks in part to the 285-plus miles of trails and bike lanes littered throughout the city and the mountain terrain. The first step to take before embarking on any outdoor adventure in Colorado is to be prepared. For trail conditions and messages about areas across the state, visit Colorado.gov  or download the COTREX app. And let's not forget all of the camping, hiking, fishing, rafting, stand up paddling and kayaking options. Fort Collins is full of outdoor adventures for every type of person. These activities can all range from easy to difficult depending on what type of adventure you are looking for.
One of the best places to spend a beautiful summer day is Horsetooth Reservoir, located on the west side of the city along the foothills of our local mountains. This popular summer spot offers 6.5 miles of water activities like swimming, boating and stand up paddle boarding. The Poudre River offers water activities also and is Colorado's only National Wild and Scenic River and offers excellent views of the Poudre Canyon to pair with great recreation. The whitewater rafting is top notch when the water is running high, early in the season, and when the water runs low, in the late summer season, Fly Fishing is at its best. City Park, is an iconic area of Fort Collins. It is one of the best places to enjoy a summer day with recreational activities, playgrounds galore, ball parks, a lake and a huge city pool!